Yampa Valley's Finest Beef
From our pastures to your plate! A product you can trust, exploding with nutrients and flavor!
LEARN MORE ABOUT US
THE DINNER YOU DESERVE DELIVERED TO YOUR DOOR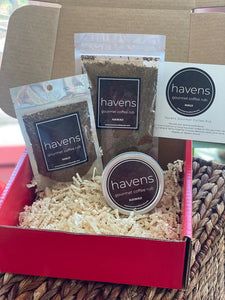 Looking for the BEST rub out there?
We have tried a bunch and nothing compares!
Their blends with Maui, Hawaiian and Vail roasted coffee will enhance the flavor of meat with bold flavors and spices to turn your meal into a gourmet delicacy. Use this dry rub on all your favorite foods to grill, smoke or bake!
SHOP HAVEN'S RUB HERE!
Customer Reviews
Best beef we had! Obviously thoughtfully raised and bursting with flavor. The steaks are excellent as you would expect but the burgers are unexpectedly fabulous. 
- Michelle 

Snowden beef has an amazing flavor. If you haven't tried it yet you need too. It is the only beef we eat in our home.
- Lisa
I am so happy that I discovered Snowden Meats! I am in Arizona and we had them ship us the deluxe package of beef. It shipped quickly and was packaged extremely well. It arrived very clean, packaged nicely in small packages and all frozen solid. As for flavor, it's out of this world! All of my recipes are next level with Snowden Meat. I never want to go back to big box stores when I can feel great serving my family this clean, excellent beef!
- Patti
News
Travis and Sarajane were honored to be apart of the The Paoli Group – Colorado Group Realty Ranch Wire TV episode.  Check it out! https://www.youtube.com/channel/UCLpBmKA0CkD68KdG5iK8z3Q
Our family has always loved the bulk beef option and this is why: pricing discounts, we eat more home cooked meals, we eat healthier more often, and we love shopping from...